Vx1 FMC Card
FMC daughter card for V-by-One HS IP core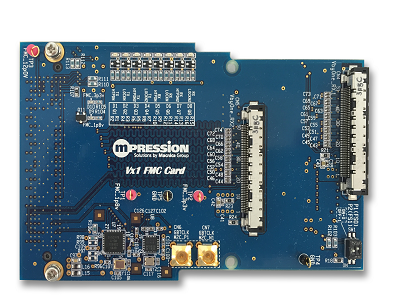 The V-by-One®HS is a leading-edge high speed interface technology which THine Electronics, Inc. developed and specified for Flat Panel Display markets. Implementing the V-by-One®HS Tx/Rx IP on to Intel® FPGAs that Mpression offers enables the FPGA based V-by-One® HS technology to offer higher frame rates and higher resolutions for FPDs. The IP has 2 kinds, the transmitter IP and the receiver IP. This makes it possible to reduce the cost considerably comparing with the conventional technology like LVDS.
The evaluation board which has been verified to connect with this card is the Intel® Arria® 10 GX FPGA development kit.
Note: Intel® Arria® 10 GX FPGA Development Kit can be purchased separately.
Features
Interface
FMC Intel®+, FX16 connecter made by HIROSE ELECTRIC CO., LTD
Main devices
Silicon Labs Si5338B, Si5317
Others
Possible to connect the evaluation board via FMC Intel®+.
Support V-by-One HS IP core developed by Macnica.
Evaluation Environment Example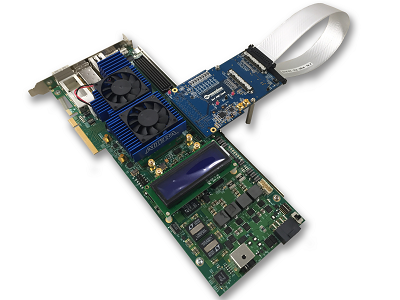 Block Diagram