100BASE-T1 HSMC Card (Discontinued)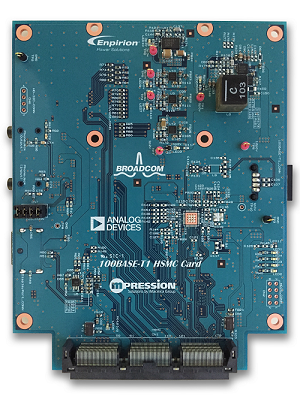 The 100BASE-T1 HSMC Card is an extension card having BroadR-Reach® 100BASE-T PHY, HD Image Sensor camera module, DisplayPort® interface, and Audio CODEC, for various FPGA development kits with High Speed Mezzanine Card (HSMC) connector defined by Intel®.
You can get started quickly with the evaluation of video transfer using HD camera and BroadR-Reach because this product includes a twisted pair cable for BroadR-Reach and a HD camera module.
Note: The opposit device of BroadR-Reach interface is required for network evaluation
Features
Main devices

BROADCOM BroadR-Reach PHY BCM89810

Analog Devices Audio Codec ADAU1961

Shikino High-Tec HD Image sensor camera module KBCR-S02TXG-HPB1022

Interface

HSMC(High-Speed Mezzanine Card) connector

BroadR-Reach connector

Display Port connector

Audio IN/OUT Jack

Power devices
Enpirion: EN6337QI, ER3125QI, EY1501DI-ADJ
Other
Include a 2m twisted pair cable for BroadR-Reach
Sample design of evaluation system
You can evaluate the various interfaces of the 100BASE-T1 HSMC Card by connecting it to Mpression Nitro (not included in this product).
Block diagram