Koshian™
Bluetooth® SMART Module (Konashi Compatible)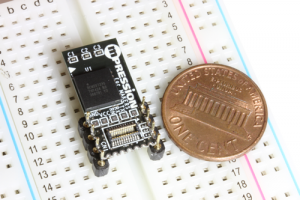 Bluetooth® SMART Module [Koshian™] is an outstanding development kit for "Makers" which can be used for the prototyping of IoT / wearable equipment without hardware design and soldering. Koshian is a Bluetooth SMART module equipped with a WICED SMART™ SIP BCM20737S (TELEC certified) and implements the "Konashi" compatible firmware. Koshian can be plugged in on the Konashi baseboard or the "Konashi mini" extension board and also mounted onto the breadboard or the universal board through the end face through holes. "Makers" can easily transition their development process from the rapid prototyping to the mass production phase with this Koshian module for the Konashi based IoT products.
Specifications
Model number
MP-KSN001B / MP-KSN001C
Size
10.2mm x 21.5mm x 2.0mm
Bluetooth(R) Device

Bluetooth® Smart SiP BCM20737 (Broadcom)

Bluetooth® 4.1 Low Energy
Adaptive Frequency Hopping
Class 2
Built-in Antenna

Interfeces
I2C, UART, SPI, PWM, GPIO, A/D
External connector
DF40C-20DP-0.4V(51) 20pin (HIROSE) ,
End face through holes (1.27/2.54mm pitch)
for mounting onto Bread Board / Universal Board
Contents
Koshian™ module, Getting Started, Schematic Diagram
Interface comparison between Konashi and Koshian
| Interface | Konashi | Koshian |
| --- | --- | --- |
| UART | ○ | ○ |
| I2C | ○ | ○ |
| GPIO | ○ | ○ |
| PWM | ○ | ○ |
| A/D | ○ | ○ |
| D/A | ○ | x |
| SPI | x | ○ |
Please refer to the following Web page from Yukai engineering for further information for konashi.
http://konashi.ux-xu.com/documents
Uzuki™ - IoT Sensor Shield for Konashi and Arduino can be connected to konashi so that user can easily access to get the sensing data of Uzuki sensors without engineering work.
Refer to the Uzuki sample source code as follows.
JavaScript : http://jsdo.it/mpression/codes
Objective-C : https://github.com/mpression
The detailed information of WICED SMART SIP BCM20737S (TELEC certified) is as follows.
http://ja.broadcom.com/products/wiced/smart/
Koshian on Konashi Base
| | |
| --- | --- |
| | |
| Koshian plugged in the Konashi base | It can also be mounted onto Konashi mini extension board |