Odyssey MAX® 10 FPGA & BLE Sensor Kit
End Of Life Notification
Odyssey has gone End Of Life!  Please note, after 5 years, the last time buy for an Odyssey kit was Nov 30, 2019.  On March 31, 2020 the phone apps will no longer be available and the Odyssey server will be shut down.  At that time even previously installed phone applications will stop functioning with Odyssey.  If you have a concern with this, please contact us at info.mai@macnica.com.
NOTE: You can continue to use your Odyssey baseboard as an Intel MAX 10 development kit when powered on a breadboard.  You will need a USB Blaster for programming, the schematics, and items listed in the "Tips and Tricks" section near the end of the Odyssey User Guide.
Whether you are collecting and processing data, controlling a remote device, or just adding extra hardware processing to an industrial or IoT design, MAX 10 FPGAs offer outstanding value and have the features and capability you need to achieve your design goals.
The kit includes both the MAX 10 FPGA board and the Bluetooth® SMART Sensor board. They can be used singly or together, giving the designer many choices of processing capability when planning and developing their system.
New Video: Odyssey Kit Example Applications: Track Rover and Quadcopter
  Watch Now
Demo Video: Odyssey MAX 10 FPGA & BLE Sensor Kit Demo
  Watch Now
Virtual Workshop: Getting Started with FPGA Designs for the Odyssey MAX 10 FPGA and BLE Sensor Kit
  Watch Now
Quick Links
Odyssey MAX 10 FPGA & BLE Sensor Kit
| | |
| --- | --- |
| | |
|   | Block Diagram |
Explore the advantages of Altera MAX 10 FPGAs! The Mpression Odyssey MAX 10 FPGA and BLE Sensor Kit is ideal for doing proof-of-concept experiments using this Bluetooth® SMART (also called Bluetooth Low Energy or BLE) enabled development platform.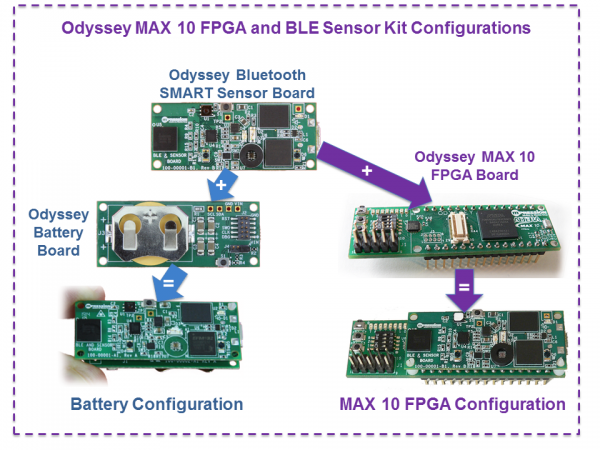 Odyssey MAX 10 FPGA Board
Uses a non-volatile Altera MAX 10 FPGA
Full access to all MAX 10 FPGA features, including:

Dual-configuration: MAX 10 FPGAs provide a single-on-die Flash memory that supports dual-configuration, for true fail-safe upgrades.
Analog Blocks: Integrated analog blocks feature a temperature-sensing diode and an analog-to-digital converter (ADC).
Instant-on: MAX 10 FPGAs can be the first usable device on a system board to control bring-up of high-density FPGAs, ASICs, ASSPs, and processors.
DSP blocks: As a non-volatile FPGA with DSP, MAX 10 FPGAs are ideal for high-performance, high-precision DSP applications.

Access to powerful soft IP such as the NIOS II 32-bit embedded processor
DIP form factor with Arduino shield expansion compatibility
Microphone, LEDs and switches for user input and output
Sensor expansion through I2C compatible interface
Learn more about the Odyssey MAX 10 FPGA board and the devices used:
Odyssey Bluetooth SMART Sensor Board
The Mpression Odyssey Bluetooth SMART Sensor Board is ideal for doing proof-of-concept experiments using this Internet of Things development platform (IoT eval kit). It is included in the Odyssey MAX 10 FPGA and BLE Sensor Kit.
Broadcom Bluetooth® SMART (BLE) connectivity module
Silicon Labs UV and ambient light, proximity, heart rate, and blood oximetry sensor
Silicon Labs temperature and humidity sensor
Analog Devices Accelerometer
Silicon Labs low-power USB-enabled EFM32 Gecko microcontroller
Sensor expansion through I2C compatible interface
You can also learn about the parts on the Bluetooth SMART Sensor board:
The Odyssey Bluetooth SMART Sensor Board can be used in a stand-alone battery configuration when powered by the Odyssey Battery Board.
Where to Buy
Customers in North America can purchase their Odyssey MAX 10 FPGA and BLE Sensor Kit from Macnica Americas. Now shipping!
Customers in other global regions can contact their local Macnica company from our Global Network.
Quick Start
Your Odyssey MAX 10 FPGA and BLE Sensor Kit comes with the MAX 10 FPGA board connected to the Bluetooth SMART Sensor Board. To start using your kit:
Go to the web utility at https://odyssey.m-pression.com and register.
Using your Smartphone, download your Mpression Odyssey Smartphone App

Power up your Odyssey MAX 10 Evaluation Kit by connecting it to a micro-USB cable (cable not included) connected to a power source such as a laptop or wall adapter.
Start the Mpression Odyssey Smartphone App
Select the Odyssey board from the list of advertising Bluetooth devices
Select the personality of your choice in the app
Interact with the Odyssey using the app
For further information, you can download the User Guide or read the FAQs
Mpression Odyssey Smart Phone App
Create a Smart Phone Interface App Without Writing Any Code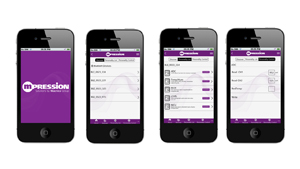 Use our phone app set up and control your MAX 10 FPGA and BLE Sensor Kit. You can control the FPGA through the app without creating custom user interface hardware as well as run experiments with different sensors and process data. With our phone app web portal, you can also personalize your app to select sensor parameters to be measured and how you want to display them. The app is free and is available for Android and iPhone.
  Android App   iOS App   Odyssey Web Utility
Pre-Loaded Personalities
The Odyssey MAX 10 & BLE Sensor Kit has pre-loaded personalities that combine a reference design and smart phone interface. With these personalities, you can quickly access and control the MAX 10 FPGA and sensors on the Odyssey Bluetooth SMART sensor board. Information for each personality will highlight what the functions are and information about the sensors or other devices being used.
For more information on Odyssey personalitities:
Videos & Training
  Odyssey Kit FAQs   Odyssey Documentation   "How-To" Videos
MAX 10 FPGA Information
MAX 10 FPGA Overview and Virtual Tour Video [click here]
Virtual Workshops
Macnica offers vWorkshops with lab exercises to teach you how to implement designs on your Odyssey MAX 10 FPGA & BLE Sensor Kit and use the smartphone app to control it.
Initial Bluetooth SMART vWorkshops include: 
For the complete list of available Bluetooth SMART workshops with full descriptions:
* WICED WiFi vWorkshops will also be available (dates TBD)
Supported By Our Supplier Partners & IP Developers
We have design partners that can help you with your IoT project. Check out our partners page.

Software