Gigabit Ethernet Card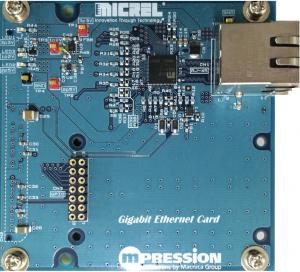 P/N: KGTGENTCD
Gigabit Ethernet Card is a daughter card to use with base boards with Altera FPGAs to attain Gigabit Ethernet. This daughter card uses Micrel's Ethernet PHY, LDO, clock device and a HSMC connector. By connecting with an Altera FPGA based base board, FPGA designers can quickly start designs and evaluations using Gigabit Ethernet interface.
Specifications
Main device
Micrel Ethernet PHY KSZ9031MNXIA
Clock device
Micrel CLK DSC1121DI1 (25MHz)
Power
3.3V - Supplied from HSMC connector
2.5V - Micrel LDO MIC5303-2.5YMT
1.2V - Micrel LDO MIC37122YMT
Others
Power LED x2 (2.5V, 3.3V), Status LED x2 (Link/Active, Speed)
HSMC connector x 1
Use Case Example
By connecting Gigabit Ethernet Card with Mpression Nitro board (sold separately) using HSMC connector, a designer can start FPGA designs using Ethernet interface very quickly.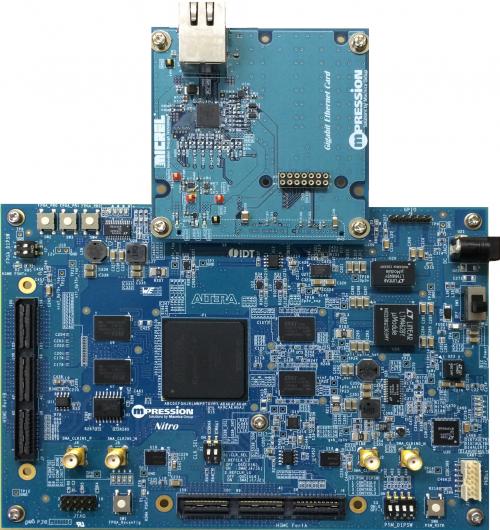 Block Diagram