Helio View (Discontinued)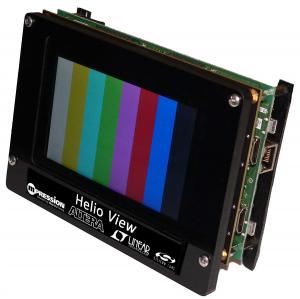 Helio View is a display solution specially tailored to fit Helio board in a form either of an upgrade kit or as a complete and preassembled kit with the Helio board. It is ideal for developing applications requiring touch screen input.
Example applications:
Industrial control systems
Medical equipment
Scientific instrumentation
Helio View upgrade kit features
WVGA (800x480) TFT LCD
Capacitive multi-touch
HDMI input
HDMI output
Two expansion connectors
Clean integration with the Helio board to make a compact, portable unit.
Deliverables
Helio View upgrade kit
Includes the LCD board, hardware to connect to Helio, and SD card with reference design
Helio View kit
Includes the LCD and the Helio boards preassembled, SD card with reference design, power and USB cables
Datasheet
http://www.rocketboards.org/foswiki/Documentation/MacnicaHelioSoCEvaluationKit
About RocketBoards.org
RocketBoards.org accelerates development by exchanging ideas with the open source community. Discover the right resources for your embedded solutions. Use one of the community-oriented development boards for the SoC, targeted for people interested in exploring and prototyping their applications.
http://www.rocketboards.org/foswiki/Documentation/MacnicaHelioSoCEvaluationKit