Uzuki Sensor Shield
IoT Sensor Shield for Konashi & Arduino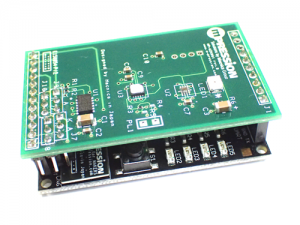 Uzuki - IoT Sensor Shield for Konashi & Arduino, is a shield board developd by Macnica to connect through I2C with Yukai Engineering's physical computing tool kit "Konashi." In addition to Konashi, Uzuki also connects to Arduino through I2C.
Uzuki has on-board 3-axis accelerometer, temperature & humidity sensor, proximity & UV index sensor. These sensors enable the use of data such as ambient temperature, humidity, light luminescence, IR level, UV level, vibration, shock, and detection of movement on the iOS devices using Konashi environment. The grove connector can connect off-the-shelf I2C sensors.
The Konashi environment enable software engineers, designers and artists to prototype easily without the need to access complex hardware and develop firmware on the MCU.
Connecting Uzuki to Konashi module as a sensor shield, you can easily develop various sensor data acquisition application without soldering.
For the details about Konashi please visit the web site http://konashi.ux-xu.com/en/documents/
Sensors on Uzuki
The sensors onboard Uzuki are connected to Konashi through I2C bus and controlled by Konashi's commands. The sensors operate using 3V power provided from Konashi.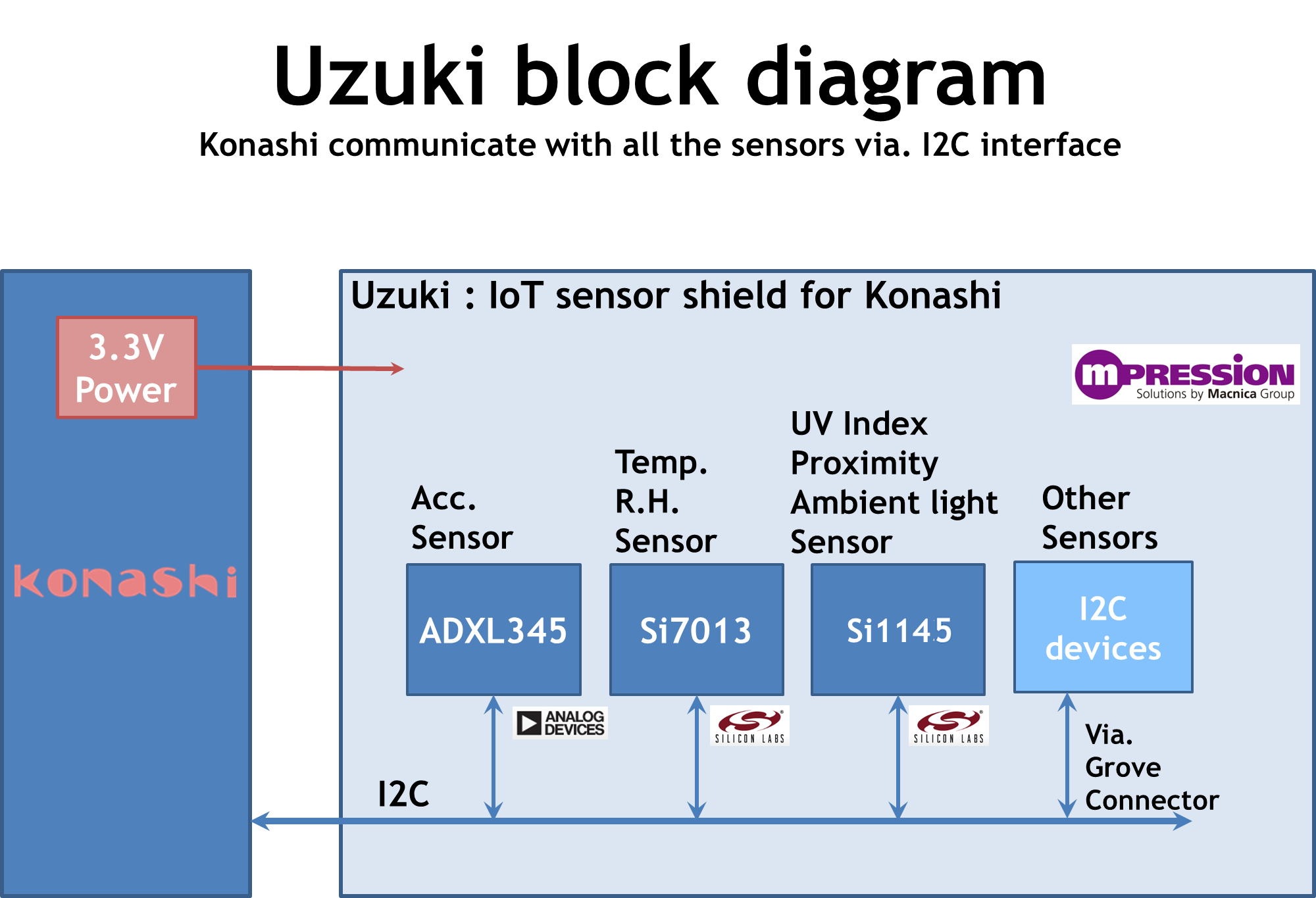 Features
| | |
| --- | --- |
| Accelerometer |  ADXL345(Analog Devices) |
| Temperature & Humidity Sensor |  Si7013(Silicon Laboratories) |
| Proximity, Luminescence & UV Level Sensor |  Si1145(Silicon Laboratories) |
| I2C device connector |  4-pin Grove connector |
iOS Application Sample Use Case
The sensors on Uzuki are controlled from Konashi through I2C bus, and the collected data can be transmitted through Bluetooth Smart and displayed to iOS device. Yukai provides Konashi API for programming iOS device.
http://konashi.ux-xu.com/en/documents/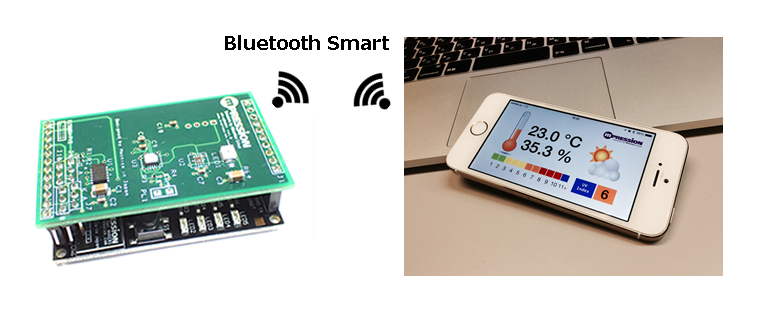 Supported Devices (Konashi)
Series
Device
OS
iPhone
iPhone 4S, iPhone 5, iPhone 5S
iOS6.0~
(iOS6.1 or later recommended)
iPad
iPad mini,
iPad(4th gen / Nov2012 model),
iPad(3rd gen / Mar2012 model)
iOS6.0~
(iOS6.1 or later recommended)
iPod touch
iPod touch(5th gen)


=iPod touch (4th gen) not supported=

iOS6.0~
(iOS6.1 or later recommended)