Design Service
One-stop service offering a solution optimized for your design and development needs
The strength of Mpression design services lies in our development services integrating hardware with software, including everything from FPGA design, to board-level design and development, and embedded software development. We offer the optimum support in line with our customers' development needs, from individual stand-alone services to integrated services.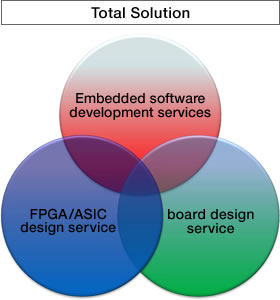 Hardware Design Service
For designers of FPGA circuits and boards
We provide custom design and development services from the FPGA to the board level, starting with drafting of specifications. We boast a proven record leveraging the skills cultivated through ASIC design, and designing for high-speed transmission at the board level.
Embedded Software Services
For developers of embedded software
We offer a broad array of development services, from development of device drivers, to porting of various middleware, and development of embedded Linux-based system-level software.
Integrated Services
For customers seeking system-level design services
Our development services are for both hardware and software, from the stage of considering specifications and methodologies.

*Linux Tux author and copyright holder: Larry Ewing, Simon Budig, Anja Gerwinski