Helio Board (Discontinued)
Intel® Cyclone® V SoC Starter Kit 
Thanks for your interesting to this board , but unfortunately this board is discontinued and we are pleased to recommend our new SoC evaluation board [Sodia]. Please visit to Sodia board web site.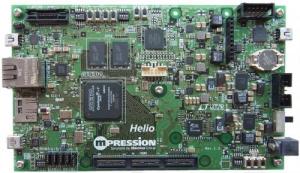 Helio is starter kit to evaluate latest Cyclone V SoC ARM-based FPGA. It provides rich features and software compatible with Intel® SoC FPGA development board. Engineers can evaluate Cyclone V SoC with Helio board in an easy, simple, and cost effective way
Features
| | |
| --- | --- |
| Main device: | Cyclone V SoC / 5CSXFC5C6U23C7N with Dual-core ARM* Cortex™-A9 processor |
| Power device: | LTC2978, LTC3605, LTC3613, LTC3026, LT3509 |
| Memory: | Micron DDR3 1GB @ 32bit @ 400MHz |
| Configuration: | On board USB Blaster II, Configuration ROM, JTAG |
| Software: | Yocto Linux BSP support |
| Interfaces: | HSMC, Gigabit Ethernet, USB 2.0 OTG, UART, SD card, GPIO, LCD |
| Other Features: | Power Supply Monitor by Linear Technology, Real Time clock, Buttons, LEDs, Switches |
Datasheet
http://www.rocketboards.org/foswiki/Documentation/MacnicaHelioSoCEvaluationKit 
About RocketBoards.org
RocketBoards.org accelerates development by exchanging ideas with the open source community. Discover the right resources for your embedded solutions. Use one of the community-oriented development boards for the SoC, targeted for people interested in exploring and prototyping their applications.
http://www.rocketboards.org/foswiki/Documentation/MacnicaHelioSoCEvaluationKit