V-by-One® HS Tx IP / V-by-One® HS Rx IP
High-speed serial interface compliant with V-by-One® HS standard
V-by-One® HS IP is an IP to achieve V-by-One HS high-speed video interface technology. V-by-One® HS is a standard for next-generation high-speed interface technology developed by THine Electronics for image and video equipment requiring higher frame rates and higher resolutions. Implementing the V-by-One HS IP in Altera FPGA reduces the number of signals compared with conventional LVDS interfaces, which greatly reduces product cost.
Features
Achieves 4-Gbps maximum transmission rate per lane (however, depends on the FPGA used)
Supports custom video formats as well as VESA, SMPTE, and other standardized formats
Supports flexible multi-lane designs in accordance with user's total transmission rate requirement
Self-check function (FieldBET) to test connectivity between transmitter and receiver IPs
Specifications
 
Transmitter IP
Receiver IP
Lane
1~32
Pixel Data
24,32,40 bit
Self Test Function
FieldBET Pattern Generator
FieldBET Pattern Checker
Supported Devices
Cyclone® V GX/GT
Cyclone 10 GX
Arria® V GX
Arria 10 GX
Stratix® V GX
Stratix 10 (H/L-Tile)
          * Please contact Macnica sales department about other devices.
Deliverables
Encrypted RTL (Verilog HDL)
Reference design
Simulation environment (For ModelSim)
User's manual
Reference design user's guide
Device Resource Utilization
IP
Lane
Cyclone IV GX
Arria II GX
Stratix IV GX
 
 
 
LE
Register
Block
Memory
ALUT
Register
Block
Memory
ALUT
Register
Block
Memory
 
 
 
TX
2
3946
2782
0
1933
2782
0
1933
2782
0
 
 
 
RX
2
6477
4949
0
2574
4949
0
2574
4949
0
 
 
 
IP
Lane
Cyclone V GX
Arria V GX
Stratix V GX
Arria 10 GX
LE
Register
Block
Memory
ALUT
Register
Block
Memory
ALUT
Register
Block
Memory
ALUT
Register
Block
Memory
TX
2
1598
2977
0
1603
2964
0
1635
2959
0
1674
2976
0
RX
2
2273
5416
0
2274
5377
0
2259
5351
0
2528
5218
0
*  The values in the above table are based on an implementation example. There may be some variation depending on the user's system configuration.Configuration Diagram
Configuration Diagram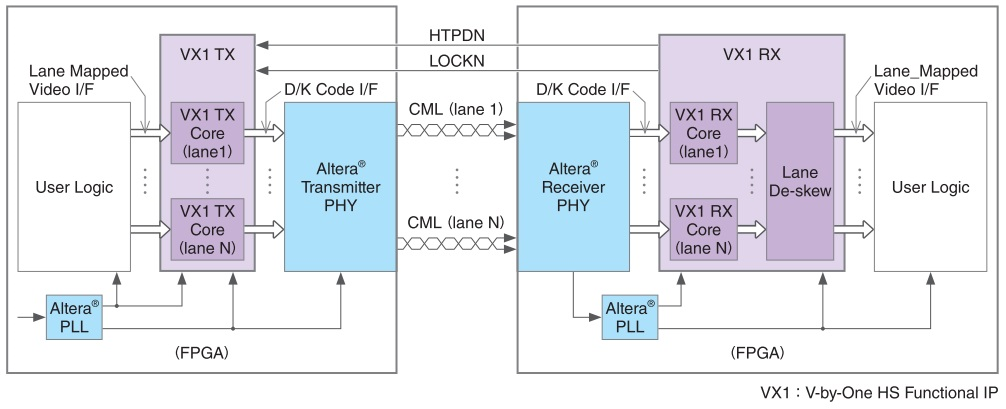 Evaluation Board