Sodia Board
Intel® Cyclone® V ST SoC Evaluation Board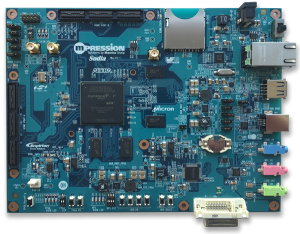 Sodia board is a development platform for embedded system designs with Intel® Cyclone® V ST FPGA which allows hardware and software designers to quickly start designing in close-to-reality target application environment. Sodia is designed as a superset of Mpression Helio board (Cyclone V SoC Starter Kit) with software compatibility and most of the functions around Helio's HPS (Hardware Processor System) are inherited to Sodia board. Sodia is suitable for users who started their designs with Helio and require more functionality.
Sodia board has peripheral interfaces including DDR3-800 x32 +8bitECC and DDR3-600 x32bit, QSPI Flash ROM, Gigabit Ethernet, SD card, USB 2.0, DVI, and Audio, and two highly extensible High-Speed Mezzanine Card (HSMC) connectors to which LVDS and 5Gbps transceiver are connected.
The two High-Speed Mezzanine Card (HSMC) connectors allow users to add various functions by combining with up to two expansion boards that are commercially available or developed by users.
Features
Intel® Cyclone® V ST SoC
Compatible with Intel's SoC Evaluation Kit
5Gbps transceivers
Various functional expansion with 2x High Speed Mezzanine Connectors (HSMC)
Video output and audio input/output equipped
Support for both downloading and debugging of FPGA and program codes by using Intel® FPGA download cable through JTAG port
Specifications
| | |
| --- | --- |
| Ordering Code | ALTSODIAC5ST |
| FPGA | Cyclone V ST SoC / 5CSTFD6D5F31I7N (with Dual ARM® Cortex®-A9 processor) |
| Memory | 1GB DDR3-800 40bit with ECC x1, 256MB DDR3-600 32bit x1, 64MB QuadSPI ROM x1, Configuration ROM (EPCQ256SI16N), 4kB EEPROM |
| Interfaces | Gigabit Ethernet x1, USB2.0 Host x1, SD card x1, USB-UART x1, HSMC x2, DVI out x1, Audio x1 (LINE in/out, MIC in) |
| Clock | Si53307-B-GM, 570SCC000115DG, Si5338C-B05096-GM, 510CCB25M0000AAG, 530SC100M000DG, 530SC148M500DG |
| Power device | EN6337QI, EN6310QI, EY1501DI-ADJ, LTC3634EUFD#PBF, LTM4625EY#PBF |
| Other Features | Real Time Clock x1, JTAG x1, LED x8, DIP Switch x6, Push switch x6, SMA for external clock x2 |
Deliverables
Sodia board, AC adopter, SD card, USB cable
Block Diagram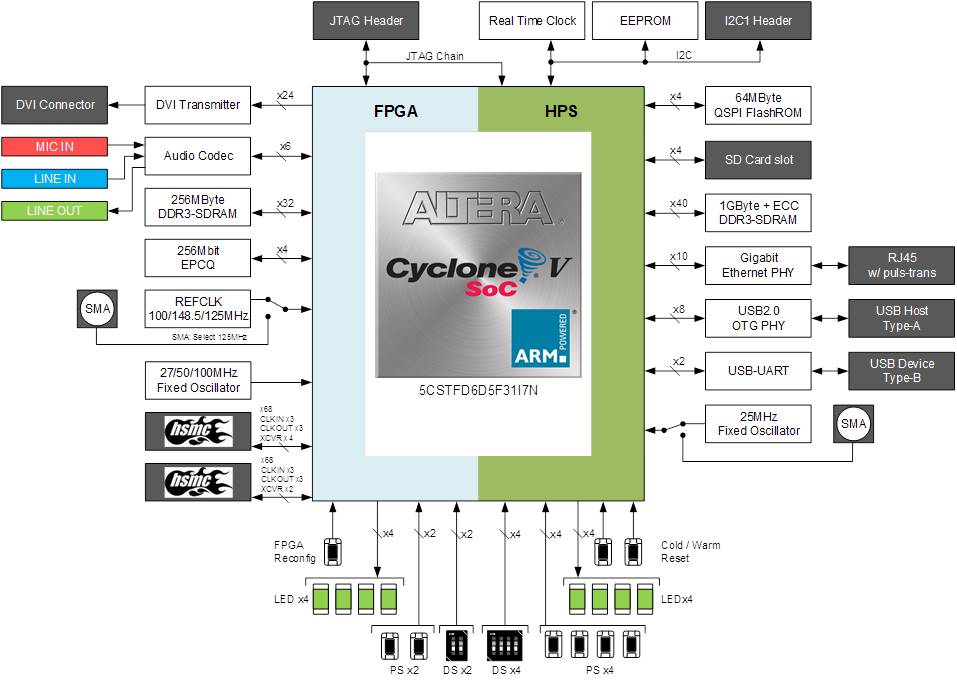 Datasheet
http://rocketboards.org/foswiki/view/Documentation/MacnicaSodiaEvaluationBoard
About RocketBoards.org
RocketBoards.org accelerates development by exchanging ideas with the open source community. Discover the right resources for your embedded solutions. Use one of the community-oriented development boards for the SoC, targeted for people interested in exploring and prototyping their applications.
http://rocketboards.org/foswiki/view/Documentation/MacnicaSodiaEvaluationBoard