CiP-1 Board
IoT/M2M sensor shield with contactless strain sensor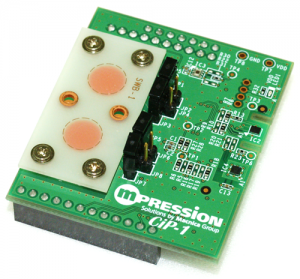 "Mpression CiP-1" which has contactless strain sensor designed based on inductive sensor technology.
CiP-1 expects to be used as environment sensor shield. The inductive sensor has been applied to contactless strain sensor which can check the load distortion of metal plane or the screw loose. When problem is detected, user can analyze why the issue is happened from environmental parameter information captured by Ambient Light, Temperature and Humidity Sensors on CiP-1.
CiP-1 has TI's inductive sensor (part number : LDC1612), ambient light sensor (OPT3001), temperature/humidity sensor (HDC1000) and contactless temperature sensor (TMP007) on board.
CiP-1 plugs on TI's evaluation development platform, CC3200MOD LaunchPad as a sensor shield and the sensor data is transmitted to Wi-Fi equipped devices including smart phones, tablets and PCs.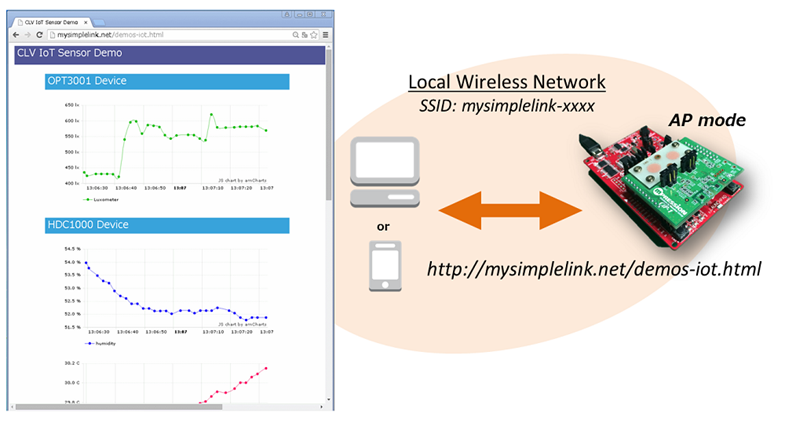 Highlights
Available to confirm the sensor data, which is taken by CiP-1 with CC3200MOD Launchpad, via Wi-Fi network.
Contactless strain sensor is implemented as inductive sensing application.
Available to detect and analyze ambient light , temperature, humidity, and contactless temperature when strain is occurred to target object.
Features
Inductive sensor
P/N : LDC1612 (Texas Instruments)
Temperature, humidity sensor
P/N : HDC1000 (Texas Instruments)
Contactless temperature sensor
P/N : TMP007 (Texas Instruments)
Ambient light sensor
P/N : OPT3001 (Texas Instruments)
10 Pin female connector header (For CC3200MOD LaunchPad)