24GHz MIMO Radar Module Eval Kit
MIMO Radar module with Analog Devices ADF5901/ADF5904
24GHz MIMO Radar module Evaluation Kit is a MIMO Radar module with Analog Devices MMICs ADF5901 24 GHz VCO and PGA with 2-Channel PA Output and ADF5904 4-Channel 24 GHz Receiver Downconverter. MIMO (Multi Input Multi Output) array antenna technology used in this module enables long-distance and wide-range azimuth detection, virtually increasing the number of Rx elements and improve the azimuth resolution.
Macnica's partner Sharp Takaya provides its signal processing technology for this module, enabling accurate detection of the angle and distance of the reflected wave and displaying the point with signal strength.
The derived signal data can be used to recognize objects such as people, cars, obstacles, etc. A sample radar display application software is included in the kit to show the strength of signals in a "heatmap" style scope.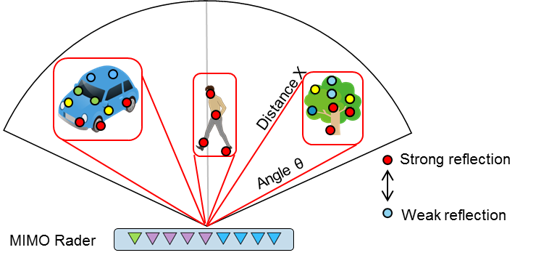 24 GHz spectrum is an ISM band widely used for radar applications in many countries.
Macnica offers 6 different types of MIMO configurations for this module kit to meet various customer requirements.
Specifications
Module Size:100(W)mm x 100(D)mm x 7.5(H)mm
Interface:USB2.0(UART), USB3.0(Power)
Power supply:5.0V
Current consumption:0.7A
Frequency:24.05~24.25GHZ
Modulation bandwidth:190 MHz
Measurement distance range (Typ.) : 0.75~105m
Angle distance range (Typ.):±40deg
Chirp time:260us
Feature
High precision and miniaturization achieved by ADI's MMIC and Sharp Takaya's signal processing technology
MIMO technology enables detection with a wide range of azimuth over a long distance
Detection of body movement and vibration is also possible
24 GHz used in many countries
6 types of MIMO configurations
Antenna Type

 

 

 

 

 

 

Transceiver (Tx)
Patch
1x8
1x4
1x2
1x8
1x4
1x2
Receiver (Rx)

Patch

1x8
1x4
1x2
1x8
1x4
1x2
Transmit antenna 
half-angle (Typ.)
Azimuth (deg)
+/- 40
+/- 40
+/- 40
+/- 70
+/- 70
+/- 70
Elevation (deg)
+/- 7
+/- 10
+/- 20
+/- 7
+/- 10
+/- 20
Receiving antenna 
half-angle (Typ.)
Azimuth (deg)
+/- 40
+/- 40
+/- 40
+/- 70
+/- 70
+/- 70
Elevation (deg)
+/- 7
+/- 10
+/- 20
+/- 7
+/- 10
+/- 20
Polarization direction
 
Vertical
Vertical
Vertical
Horizontal
Horizontal
Horizontal
Output power (Typ.)
dBm EIRP
20
18.5
16
18.5
15
12
Circuit Configurations
Devices Used:
ADF5901:24 GHz VCO and PGA with 2-Channel PA Output
ADF5904:4-Channel, 24 GHz, Receiver Downconverter
ADF4159:13 GHz, Fractional-N Frequency Synthesizer
ADAR7251:4-Channel, 16-Bit, Continuous Time Data Acquisition ADC
ADSP-BF706:Low Power 400MHz Blackfin+ Embedded Processor with 1MByte L2 SRAM
ADP5024:Dual 3 MHz, 1200 mA Buck Regulators with One 300 mA LDO
ADM7172:6.5 V, 2 A, Ultralow Noise, High PSRR, Fast Transient Response CMOS LDO
Schematics: