EasyMVC
Versatile Machine Vision Camera Development Kit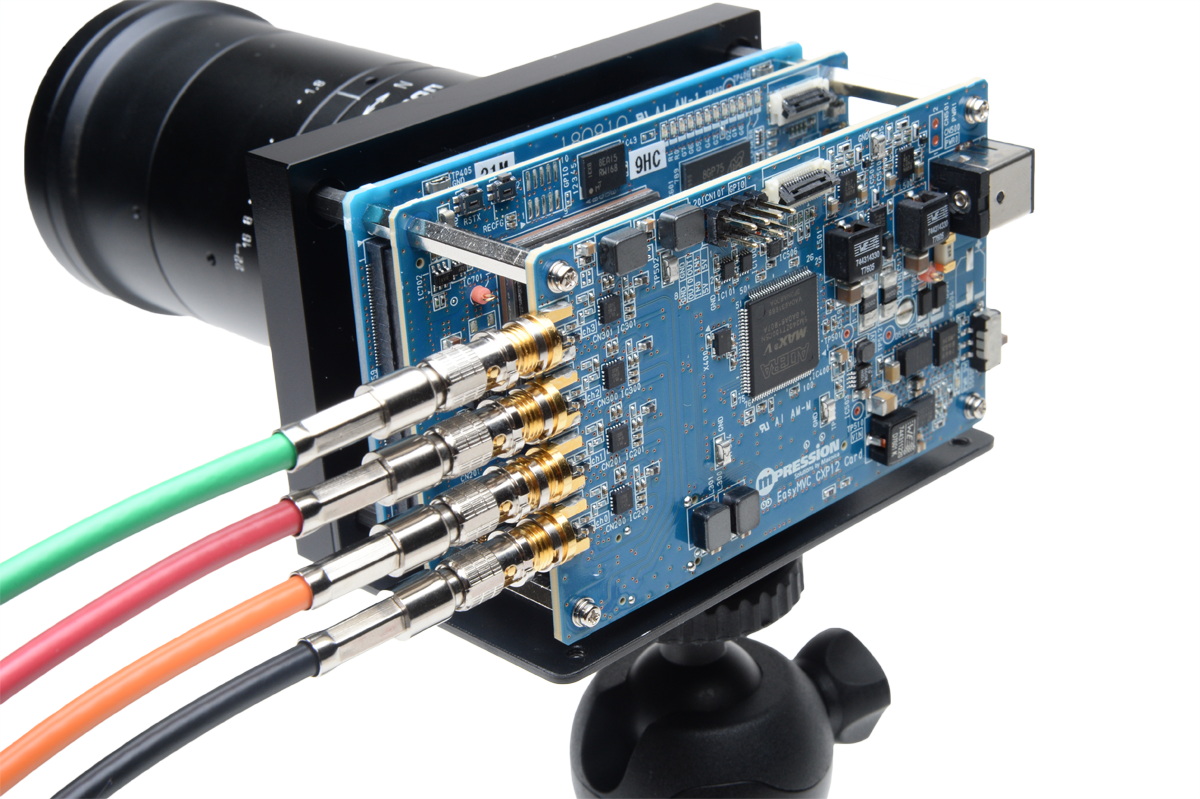 Overview
EasyMVC stands for Easy Machine Vision Camera. Machine Vision Camera Development Kit for both hardware engineers and software developers who work on machine vision systems.
This kit consists of three major parts, an image sensor board, an FPGA board, and an interface board. By changing the combination thereof, various sensors, IPs, interfaces, etc., which affect the performance of the machine vision system, can be evaluated without requiring any troublesome setup. In addition, sample designs of hardware and software are provided to help short-term and low-cost development. 
[Note]
* This product is intended for pre-purchase evaluation of our IP cores, SLVS-EC IP, GigE Vision IP, USB3 Vision IP, and CoaXPress IP.
* If you purchase for any other purpose, we will not be able to provide technical support.
Features
Evaluate key technologies making up machine vision cameras

Cutting-edge CMOS image sensors
Various Machine Vision interfaces
IP cores that Macnica offers

Make it easy to develop prototypes of machine vision camera

FPGA design
Firmware development
Development of Host PC software, etc.
Basic configuration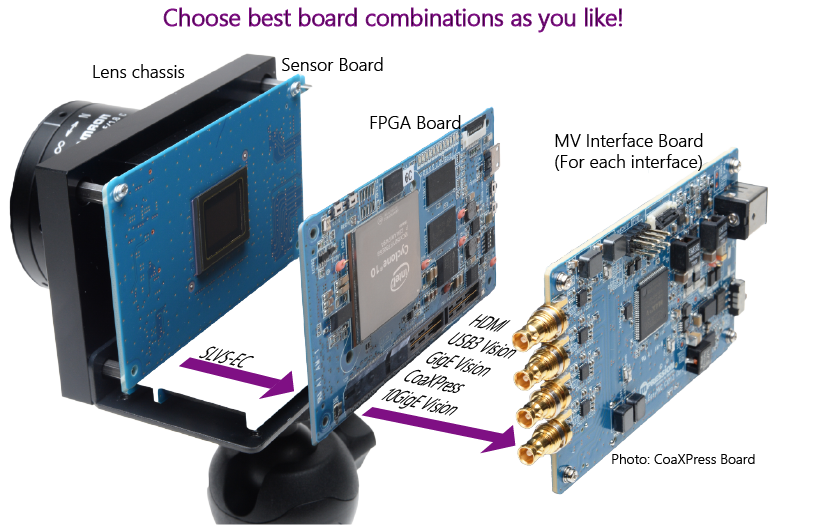 Target lineups and schedules
Product line up with a combination of sensor, FPGA, and Machine Vision interface.
EasyMVC Sony IMX420MS/CS C10 HDMI U3V Kit
Hardware Image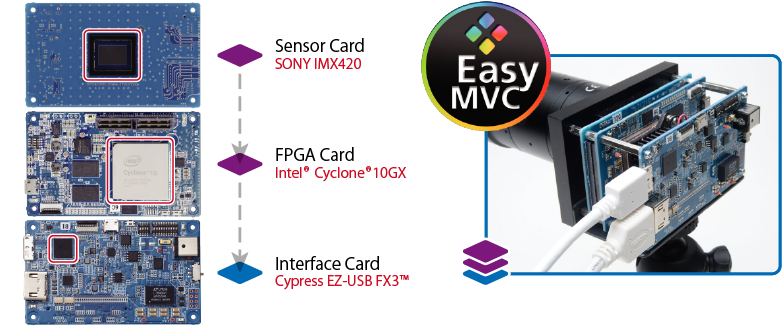 Key Features
Sensor Board

SONY IMX 420

SLVS-EC 8 Lane Outputs
Global Shutter
7M pixels

FPGA Board
Interface Board

HDMI® interface

For connection to TV Monitor

USB3.0 interface

For connection to PC
Support USB3 Vision®
FPGA Design Block Diagram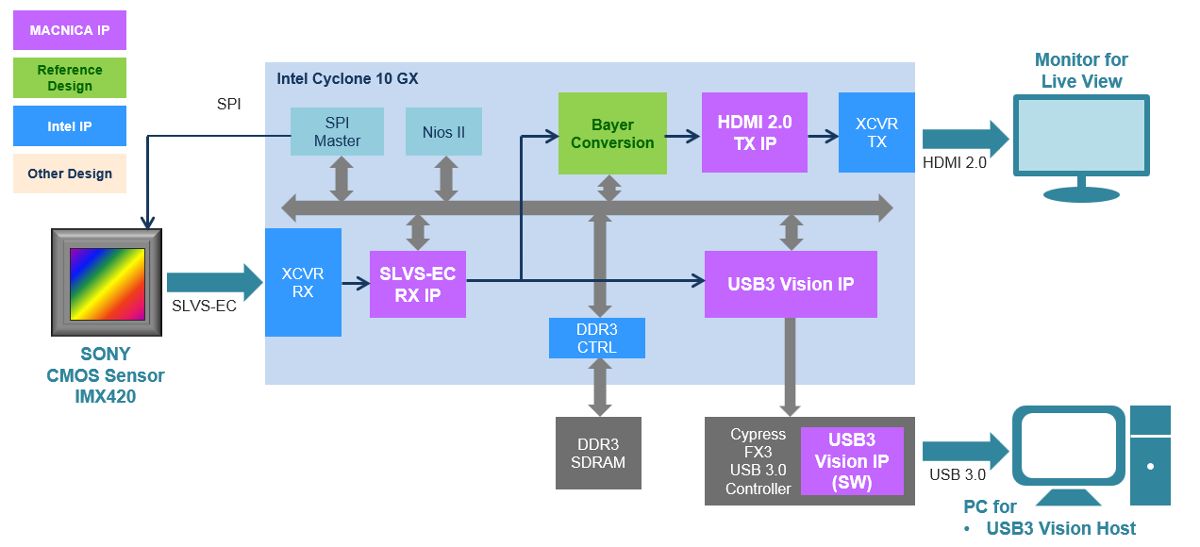 Packaged items
Hardware

IMX420 CMOS sensor board
Cyclone® 10 GX FPGA board
HDMI® 2.0 and USB 3.0 Machine Vision interface board

Software

Sample Design

FPGA design
Software tools (for Windows®)

GenICam® middleware for evaluation
GenICam® application

IP design for evaluation (Request basis)

SLVS-EC Rx
HDMI® 2.0 Rx
USB3 Vision®
EasyMVC Sony IMX420MS/CS C10 Coax1.1 Kit
EasyMVC Sony IMX421MS C10 Coax1.1 Kit
Hardware Image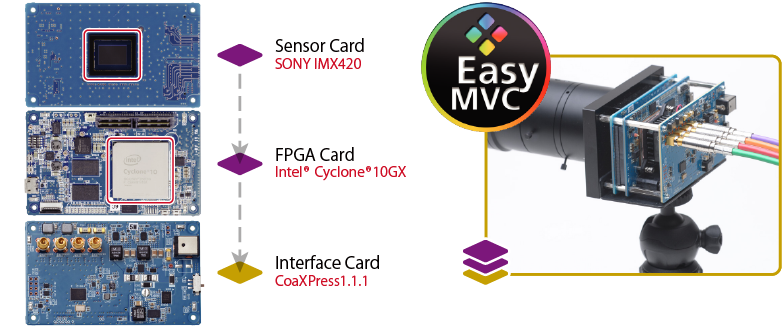 Key Features
Sensor Board

Same Board as EasyMVC Sony IMX420MS/CS C10 HDMI U3V Kit
IMX421 CMOS sensor board for EasyMVC Sony IMX421MS C10 Coax1.1 Kit

FPGA Board

Same Board as EasyMVC Sony IMX420MS/CS C10 HDMI U3V Kit

Interface Board

CoaXPress® interface (DIN connector)
25Gbps (6.25Gbps x4 connection)
EasyMVC Sony IMX420CS/MS C10 Coax2.0 Kit (Demo available now)
Hardware Image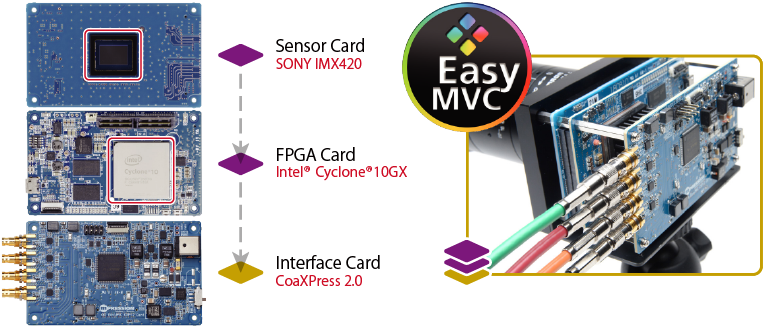 EasyMVC Sony IMX421CS/MS C10 10GigE Kit (Demo available now)
Hardware Image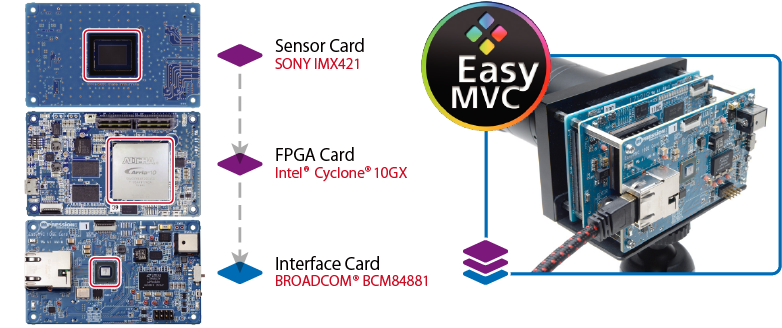 Ordering Information
| Model name | Ordering Code |
| --- | --- |
| EasyMVC Sony IMX420CS C10 HDMI U3V Kit | EMS420CSC10HDU3V |
| EasyMVC Sony IMX420MS C10 HDMI U3V Kit | EMS420MSC10HDU3V |
| EasyMVC Sony IMX420CS C10 Coax1.1 Kit | EMS420CSC10COAX1 |
| EasyMVC Sony IMX420MS C10 Coax1.1 Kit | EMS420MSC10COAX1 |
| EasyMVC Sony IMX421MS C10 Coax1.1 Kit | EMS421MSC10COAX1 |
| EasyMVC Sony IMX421CS C10 10GE Kit | EMS421CSC1010GE |
| EasyMVC Sony IMX421MS C10 10GE Kit | EMS421MSC1010GE |