Macnica Releases Mpression Sodia Board Based on Altera Cyclone V ST SoC
YOKOHAMA, Japan (February 16, 2016) – Macnica, Inc., a leading global technical distributor for semiconductor and networking products, today released the Mpression Sodia board, a flexible platform based on the Altera® Cyclone® V ST SoC – the ARM® Cortex®-A9 based SoC FPGA. It is useful for quickly prototyping embedded systems combining the ARM based hardware processor system and the FPGA fabric in the Cyclone V SoC . The dual High Speed Mezzanine Card connectors and audio and video I/Os enable embedded systems designers to accelerate Cyclone V SoC based design and verification with high flexibility at minimum cost and time. Macnica is taking orders for the Mpression Sodia board immediately and will start shipping at the end of February 2016 through local Macnica global subsidiaries having an Altera franchise.
The Mpression Sodia board is a flexible development platform for embedded system designs with an Altera Cyclone V ST SoC , allowing hardware and software designers to quickly start designing in a realistic environment utilizing its dual HSMC connectors and on-board peripheral interfaces including Gigabit Ethernet, USB, audio in/out and DVI video output. The Sodia board is designed as a superset of Mpression Helio board (Cyclone V SoC Starter Kit) with software compatibility and most of the functions around Helio's HPS (Hardware Processor System) are available on the Sodia board. The Sodia board is ideal for users who started their designs with Helio and require more functionality and flexibility.
The Mpression Helio board attained an affordable price by limiting the features to the minimum required for those users who want to start evaluating Altera's first SoC FPGAs. It was functional enough for software developers, and thus it was very successful in reaching many users. However, many of the users showed interest in going further with a platform in which they can evaluate various kinds of designs with more expandability. Macnica took this interest seriously and developed the Sodia board to enable them to evaluate and develop more complex functionalities by designing it to be a superset of the Helio board while increasing FPGA capacity, and adding an HSMC connector and audio/video interfaces. For more details about the Mpression Sodia board, please visit http://www.m-pression.com/solutions/boards/sodia-board
The Mpression Sodia board is sold through Macnica's worldwide network with Altera franchises in Japan, North and South America, China, Hong Kong, Taiwan, ASEAN countries and India. To locate your local Macnica company, please visit http://www.m-pression.com/where-to-buy
About Macnica
Macnica Group, a leading technical distributor operating worldwide, provides services and high-value products, including semiconductors, electronic components, network equipment and software, to electronics manufacturers and to IT and enterprise customers. Since Macnica was founded in 1972 in Japan, it has focused on technical support and continuous advancement of its technical capabilities. Macnica's business extends globally through its 34 local business centers worldwide. Macnica operates in different brands in regions: Macnica (Japan, APAC, North America, Brazil, & Europe), Altima (Japan), Elsena (Japan), Kogent (Japan), Cytech Technology (China & Hong Kong), Cytech Global (ASEAN & India), and Galaxy Far East (Taiwan & China). For more details, please visit http://www.macnica.com/home
Features
Altera Cyclone V ST SoC
Compatible with Altera's SoC Evaluation Kit
5Gbps transceivers
Various functional expansion with 2x High Speed Mezzanine Connectors (HSMC)
Video output and audio input/output equipped
Support for both downloading and debugging of FPGA and program codes by using Altera USB-Blaster™ or USB-Blaster™ II download cable through JTAG port
Specifications
| | |
| --- | --- |
| Ordering Code | ALTSODIAC5ST |
| FPGA | Cyclone V ST SoC - 5CSTFD6D5F31I7N (Altera) |
| Memories | HPS side: 1GB DDR3-800 40bit with ECC x1 (Micron), FPGA side: 256MB DDR3-600 32bit x1 (Micron), 64MB QuadSPI ROM x1 (Micron), Configuration ROM: EPCQ256SI16N (Altera), 4kB EEPROM |
| Interfaces | Gigabit Ethernet x1 (Microchip), USB2.0 OTG x1 (Microchip), SD card slot x1 (Würth Elektronik), USB-UART x1 (FTDI), HSMC x2, DVI out x1 (Texas Instruments), Audio LINE in/out, MIC in, USB Connectors A/B (Würth Elektronik) |
| Clock | Clock Gen (Silicon Labs), Oscillator (25, 100, 125, 148.5MHz) (Silicon Labs) |
| Power | µModule (Linear Technology), DDR Power (Linear Technology), LDO (Altera), DCDC (Altera), FET (ON Semiconductor), Inductor (Würth Elektronik) |
| Others | Real Time Clock x1, JTAG x1, LED x8, DIP Switch x6, Push Switch x6, SMA for External Clock x2 |
| Deliverables | Sodia board, AC adopter, SD card, reference design, reference manual, schematic |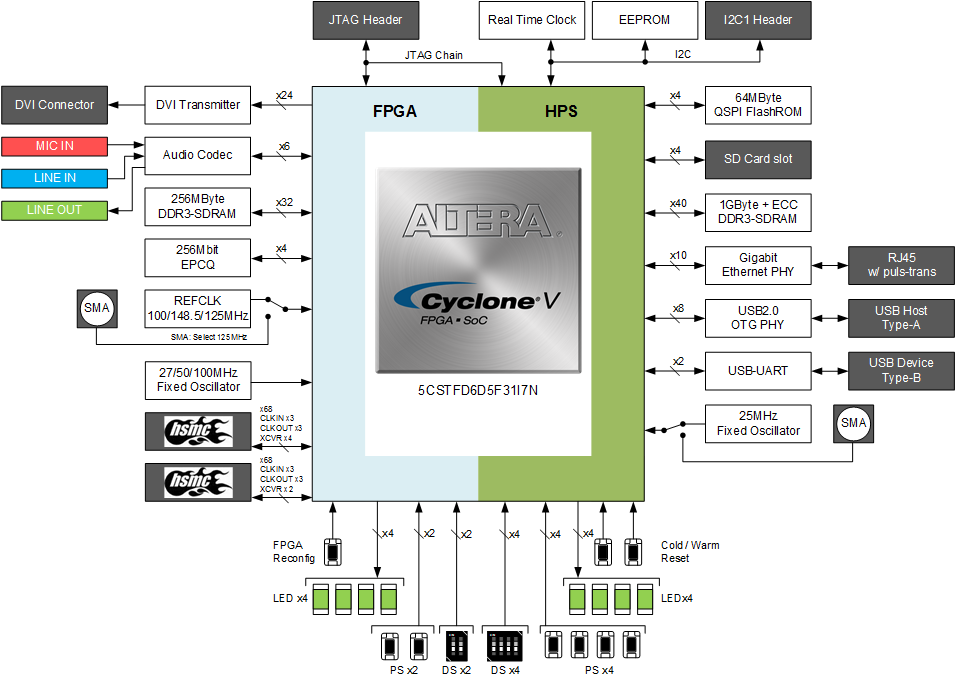 Block Diagram