3G-SDI FMC Card
FMC (Intel®+) daughter card for evaluation of 3G-SDI/HD-SDI/SD-SDI
| | |
| --- | --- |
| | |
| Top | Bottom |
This card is an FPGA Mezzanine Connector (FMC) daughter card that complies with FMC ALTERA LPC+ standard. It is the card to expand functionality of FPGA evaluation board so that you can evaluate the 3G-SDI, HD-SDI, and SD-SDI interfaces by inserting this card into any one of various types of FPGA evaluation boards and combining their functionalities.
The evaluation board which has been verified to connect with this card so far is the Altera Arria® 10 GX FPGA development kit.
Specifications
External Dimensions
69 mm x 160 mm
Printed circuit board
6 layer FR4
FMC
Samtec ASP-134488-01
Power Supply
3.3 V/VADJ (1.8 V)/12 V from FMC
Video sync separator
Texas Instruments LMH1981
Video clock generator
Texas Instruments LMH1983
Interface

Active BNC TX x 6
Active BNC RX x 6
Component input BNC x 1
Clock output SMA x 1 pair
Block Diagram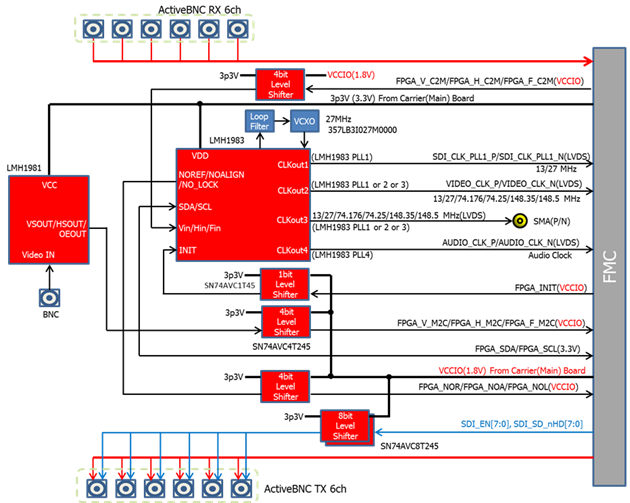 3G-SDI FMC Card Block Diagram
Evaluation Example
Using Altera Quartus Prime 16.0 Transceiver Toolkit, you can test 2.97Gbps loopback between transceivers in Arria 10 GX.

3G-SDI FMC Card Transceiver Toolkit Loopback Design Block Diagram
Ordering Information
| | |
| --- | --- |
| Product Name | 3G-SDI FMC CARD |
| Part Number | 3GSDIFMCCD |
 Packing List
| | |
| --- | --- |
| 3G-SDI FMC Card | 1 pcs. |
| 37-mm spacer | 4 pcs. |
| 10-mm spacer | 2 pcs. |
| Pan-head screw | 6 pcs. |
| Packing list/precautions(Japanese) | 1 sht. |
| Packing list/precautions(English) | 1 sht. |