Macnica Announces Launch of "EasyMVC", Machine Vision Camera Development Kit
Enable immediate development of MV camera with the leading-edge CMOS image sensors and Vision interfaces.
YOKOHAMA, Japan (November 1, 2018) – Macnica, Inc. (Headquarter: 1-6-3 Shin-Yokohama, Kohoku-ku, Yokohama, Japan President: Kiyoshi Nakashima) today announced the launch of "EasyMVC" developed originally, --- a Machine Vision Camera Development Kit that will enable users to promptly evaluate and develop not only the leading-edge CMOS image sensors but also the most advanced vision interfaces --- Output interface of Machine Vision Camera.
The kit consists of three boards --- an image sensor board, an FPGA board, and an interface board. Simply by changing the combination of them, users can evaluate the components such as various sensors, IPs, and interfaces that affect the performance of machine vision systems without any troublesome set-up work. In addition, as Macnica provides sample designs of hardware and software, it will help the development in a short period at a low cost.
Macnica provides a various IP cores for Intel® FPGA such as "SLVS-EC" co-developed with Sony Semiconductor Solutions Corporation firstly in the world, "GigE Vision®", "USB3 Vision®", and "CoaXPress® 1.1.1" that are all required for building a Machine Vision Camera.
Users can easily start evaluating those IP cores using the EasyMVC.
Since SONY's leading-edge CMOS image sensors have very high specification, users usually must overcome a lot of technical issues such as difficult FPGA design to extract image data efficiently and board design according to different pin arrangement for each sensor even before starting evaluation. In this situation, users can solve those technical issues and start evaluating the latest sensors immediately with the EasyMVC.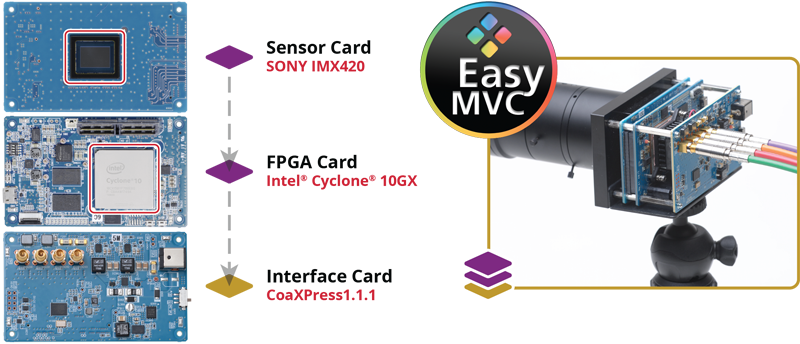 < Features of EasyMVC Machine Vision Camera Kit >
Sensor Board: SONY® IMX420 Color or Monochrome mounted.

Planning to add the other sensor boards.

FPGA Board: Intel® Cyclone® 10 GX mounted.

Vision Interface Board: USB3 Vision® + HDMI® 2.0 or CoaXPress® 1.1.1
Planning to add the other boards based on new interface standard.
Release date: November 1, 2018
The EasyMVC will be sold to the whole world via Macnica, Inc. or its subsidiaries.
You will see the demonstration of the actual operation at the VISION SHOW in Stuttgart, Germany in November 2018, the electronica trade fair in Munich, Germany in November, or the INTERNATIONAL TECHNICAL EXHIBITION ON IMAGE TECHNOLOGY AND EQUIPMENT 2018 in Yokohama in December.